Chief Executive Officer's Welcome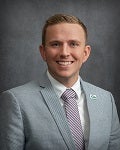 Hello Everyone,
I wanted to take a moment to introduce myself to you, our member-owners.  My name is Darick Eisenbraun and I have been hired by the High Plains Power, Inc. Board of Directors as the Chief Executive Officer.  I was born and raised in a small town in western South Dakota and went on to attend Black Hills State University in Spearfish, South Dakota. My wife and I met our sophomore year of college, and we married after graduation. We were both fortunate to find jobs in the Spearfish area, and last spring we welcomed our first baby daughter, Collins.  
I began my career in the cooperative family in 2015 with Butte Electric Cooperative.  During my time with Butte Electric, I was fortunate enough to be able to see and do many things within the cooperative including member services, strategic planning, system planning, and finance, to name a few.  Like many of you, our cooperative employees are asked to wear many hats, and through those experiences we can grow and find ways to better serve you, our member-owners.  I cannot express how excited I am to be able to lead this great team at High Plains and work along with the Board to better serve you, our members.  I look forward to meeting many of you in the future!  
The Staff and I are here to serve you, the member/owner. Please help us do our job as effectively as possible. If you have a suggestion that will improve our service, we can be reached in any of four ways:
Phone at 1-800-445-0613, 307-856-9426
Mail at:
High Plains Power
1775 E. Monroe Ave
Riverton, WY 82501
Email or you may come by the office at 1775 E Monroe in Riverton
On behalf of all the members of the Board of Directors, Management, Staff and Employees at High Plains Power, welcome. Our goal and pledge is to provide you with the most reliable and lowest cost electric service available.
Sincerely,
Darick Eisenbraun, CEO
High Plains Power, Inc.